Companies have spent great sums on technology to make remote working a success. For many, these are investments for a future hybrid model – where some employees are based at home and others in the office. To ensure the strategy keeps employees motivated and engaged, businesses need to use digitalisation to ensure that everyone enjoys the same level of support and freedom, no matter where they choose to work.
Businesses across the world have been forced to work remotely in response to Covid-19, and technology has been a vital enabler. It has given employees the tools they need to carry out day-to-day work, hold meetings with each other and with clients, and to share documents quickly and easily.
Heavy spending on technology that supports home working won't go to waste. Many businesses are now looking to adopt a model that enables some level of remote working over the long-term.
McKinsey surveyed businesses across various countries and sectors and found that 20% of the workforce could work remotely three to five days a week just as effectively as working in the office full time. Lots of businesses are now thinking seriously about creating a hybrid working model – one which gives employees choice over where they work. But to make this flexibility successful, businesses will need to ensure they have the digital capabilities needed to bridge the gap between those in the office and those at home.
Business benefits of the hybrid model
Many businesses are reaping the benefits of remote working. Their investments in technology have been offset by lower office costs, with SMEs in the UK reporting they have saved up to 70% on providing food and drink, utilities and rent.
Not only are businesses saving money, but they could also use hybrid working to attract top talent. With 82% of employees saying they enjoy working from home, businesses that offer this choice will be sought after.
Empowering employees through flexible working
As well as attracting new employees, hybrid working could keep existing workers engaged and productive. While working remotely as a result of Covid-19 restrictions, people say they are spending 12% less time in meetings and 9% more time interacting with customers and clients. Employees also say they spend 50% more time on tasks through personal choice, rather than because they are asked to.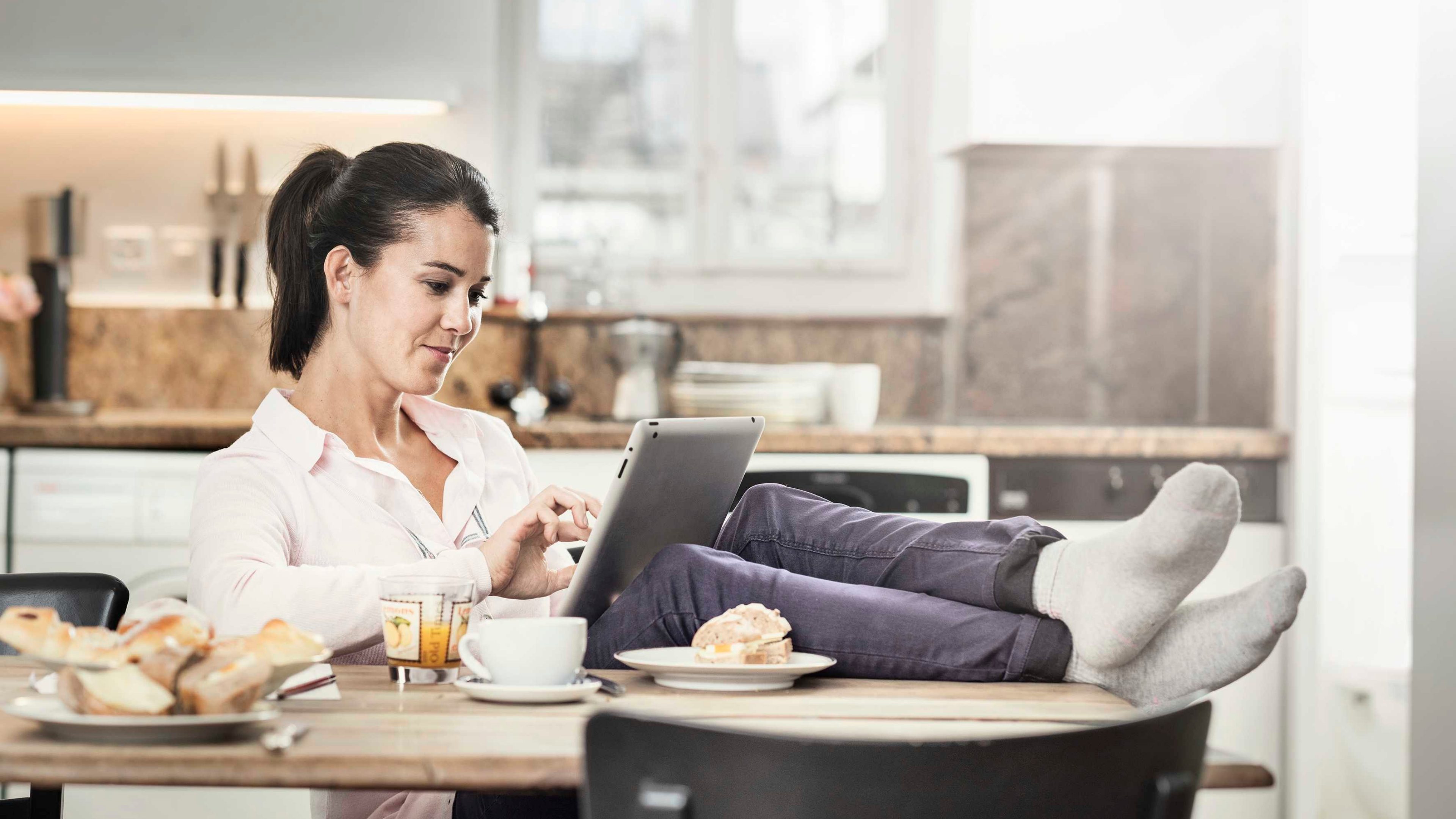 Remote working has empowered employees to work with self-determination, which will no doubt make them more satisfied and productive.

Technology has certainly helped. Surveys reveal that 67% of businesses have invested in video conferencing software and 57% have signed up to collaboration tools. Digitalisation is enabling employees to interact with colleagues and manage projects together, even though they are not in the office. At the same time, they benefit from the undisturbed time needed for deep thinking and creativity – or at least they will when lockdown restrictions allow other family members to go back to school and work.
Room for improvement with hybrid working
Although technology is helping to mimic the office environment, some challenges of remote working have surfaced. Employees report experiencing exhaustion from unrelenting conference calls, with technical issues and participants talking over each other cited as notable frustrations. People also say they are more worried about cybersecurity working from home, which is understandable given that more than one in ten employees have had video calls hacked.
Technology could quickly adapt to solve these issues and support those working at home. However, there could also be longer-term issues with hybrid working. We are yet to see how people interact when some colleagues are in the office and others are at home. It may be difficult to collaborate freely when six people are in a meeting room and two are joining remotely, for example. There are also concerns that remote workers will find it more difficult to get a promotion than those based in the office. It may be harder to pick up on people who need extra support if managers are having face-to-face conversations with some colleagues and video calls with others.
Businesses will need to go further to support colleagues if they are to make hybrid working a successful model over the long-term.
Supporting colleagues through digitalisation
Digitalisation has the potential to solve both the short and long-term issues of hybrid working. The right tools can bring colleagues together to enable collaboration no matter where people are working from. They could be used to run career progression reviews, assistance and training, and they can also be used to deliver employee benefits and support, connecting people with professionals across different industries – from healthcare to financial planning.

For example, at Swiss Life, we have developed a Pension Projection module to give employees a clear oversight of their retirement savings. We have also created a Risk Profiler, which shows employees how to adapt their investments according to their own needs and values. These tools are delivered digitally, ensuring every employee can make the most of them.
One crucial benefit of technology is accessibility. All employees should receive the assistance and opportunities they need to thrive, and digitalisation ensures that those in the office and those working remotely have the same access to this support. Employee benefits that are provided digitally also give people more choice over which tools they want to use, helping to keep them engaged and self-motivated to thrive.

Find out how we can support your business with a range of inspiring, insightful & practical solutions