Wealthy individuals and their families face a range of complex challenges today – from succession planning and wealth transfer to cross-border investments and more. We are problem solvers, using our global expertise to support our clients with financial security, freedom of choice and confidence.
Solutions that change with the world
Effective international wealth planning requires flexibility. Priorities and goals evolve over time and so do the high-end life insurance solutions we create for sustainable wealth planning.
With decades of experience and a deep Swiss heritage, our team of 300 specialists throughout Europe and Asia are cross-border wealth  planning experts. We boost our capabilities further by partnering with the world's most well-established and respected financial and legal institutions.
We aim to be trusted advisors and active partners. Doing this effectively means balancing the best practices of the past with today's cutting-edge innovations.
Trusted relationships. Global expertise.
Our aim is to give clients certainty and financial confidence in a constantly changing world, ultimately helping them make self-determined decisions. Our ability to do this is bolstered by  partnering with renowned financial institutions who provide  wealth management expertise and in-depth market knowledge.
Our collaboration model is build on the particular skills of each partner allowing them to  create stronger ties with their clients, who in turn get access to innovative Global Private Wealth solutions.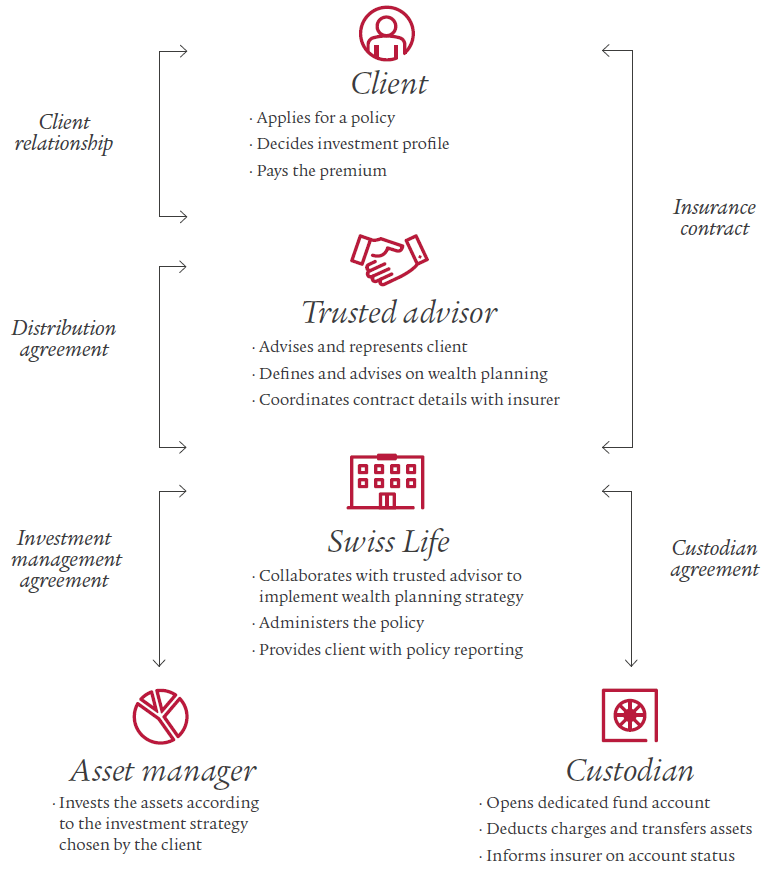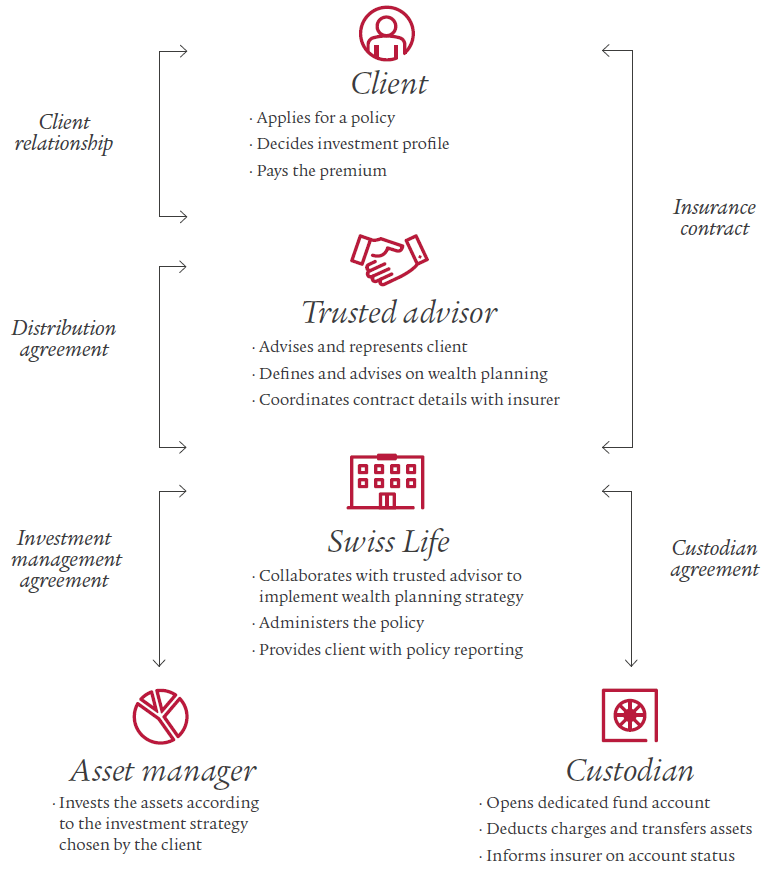 How we contribute to our partners' objectives 
Our sophisticated life insurance solutions complement a wide range of investment opportunities. We help our partners deliver a holistic wealth planning approach to grow their business, expand their offering, attract new clients, leverage global insight and strengthen long-lasting relationships.
A global network of experts and trusted advisors
We provide our partners all over the world with high-quality insurance-based solutions that help wealthy individuals and their families live their choices with financial security and confidence. As a partner, you benefit from being able to offer your clients unique and flexible international wealth planning and liquidity life insurance solutions from Swiss Life, as well as being able to leverage our long-standing experience and relationships with prestigious financial and legal institutions.

Tailored international wealth planning
Comprehensive offering

We propose life insurance solutions as part of a holistic wealth planning strategy. Our cross-border structures can accommodate complex business, family and regulatory needs over the long-term.

Global exchange

We offer access to a global network with extensive knowledge of cross-border transactions, providing individual training on current market themes and guidance on regulatory and legal changes.

Solutions for a complex world

We endeavour to provide innovative life insurance solutions flexible enough to evolve over time and part of a sustainable wealth planning that meets every requirement of current and future generations.
Find out more about international wealth planning and contact us now.
One portal for all your needs
Our digital solution gives you the flexibility to manage your clients' Global Private Wealth solutions from any device.